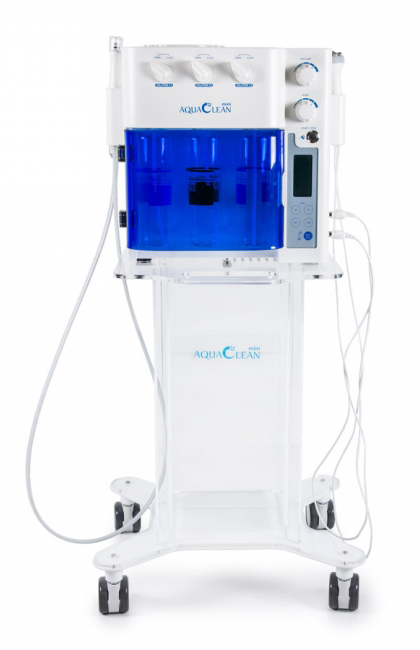 AquaClean mini consist of a 3-in-1 system that combines three different technologies including an aqua clean system using vacuum, electroporation and double lifting. 3-in-1 system provides complete facial care including cleansing, solution penetration and lifting to a single device.
AquaClean Mini has the option to add another facial care that is suitable for medical skin clinics and hospital centers, making it a 4-in-1 system that combines aqua clean system using vacuum, electroporation, double lifting and diamond peel.
Hypoallergenic peeling function that removes sebum, dead skin cell and wastes using vacuum.
Simple treatment procedure without any side-effects
Smooth peeling & treatment without stimulation.

Electrical pulses create a temporary hole in the surface of the skin and valid ampoules penetrate deep into the skin through this hole.
Without damage to the cellular skin structure, micro-current creates a temporary opening on the skin for penetration of nourishing ampoules into deep layers of the skin.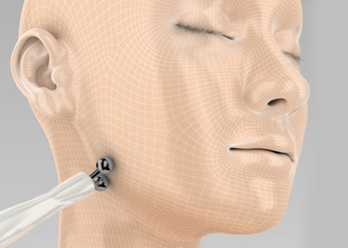 Micro current stimulates cellular structure of the skin, thereby resulting in firmer, smoother skin.
By supplying micro-current to flow through superficial layer of epidermis, lifting effect from stimulated facial muscle is achieved.
Effective in Facial Lifting & Tightening and Micro-circulates the treated area.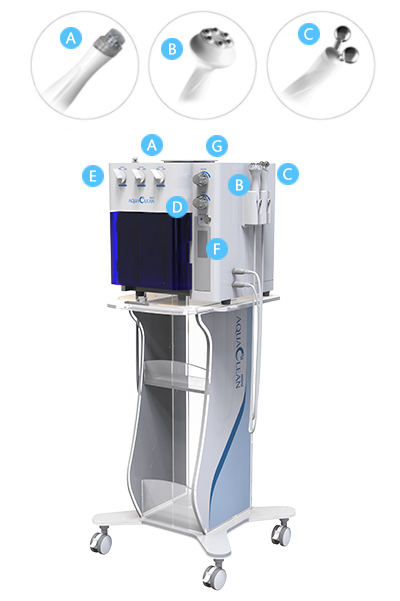 A . Aqua Cleansing
 Hypoallergenic peeling function
 Cleansing & Exfoliation by vacuum
B . Electroporation
 Applicable to broad areas like the forehead and the cheeks.
 Adjustable Treatment Level(Level 1 to Level 10)
C . Double Lifting
 Improving skin elasticity of the cheeks, the chin, the neck, the neckline, etc.,   Improving skin complexion.
 Adjustable Treatment Level (Level 1 to Level 10)
D . Valve Type
 Vacuum & Flow rate control
E . Solution Open/Close valve
F . LCD Control panel
Electroporation / Double lifting control panel
G . Large Capacity Waste Container
One-step container connection
· Over Flow utilization for safety
· Large container capacity at 2.5L
· Easy to clean 
Face and Body Lifting
Improvement of Blood & Lymph Circulation
Microdermabrasion
Skin Rejuvenation
Skin Resurfacing
Skin Tightening
Wrinkles – Fine Lines Treatment